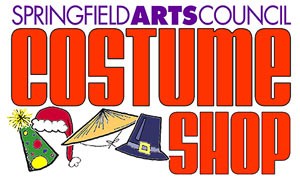 Springfield's source for Theatrical and Holiday Costumes!
THE COSTUME SHOP at the Springfield Arts Council is an extensive inventory of adult theatrical and specialty costumes operated by the Springfield Arts Council as a community service. Costumes may be rented by individuals, theatrical groups and church and schools groups. (Our inventory includes a limited selection of costumes for young children.)
THE COSTUME SHOP OPEN BY APPOINTMENT ONLY!
Call Krissy at 937-324-2712 ext. 25
for appointments, rental availability, and more information.
Visit our Costume Shop Facebook page!  
Click any costume below to see a larger photo.
Photos below represent a very small sample of costumes available. Please call for an appointment and more information.

Funds raised from The Costume Shop rentals are used to manage and maintain the shop's costumes and to support the Springfield Arts Council's Summer Arts Festival and Arts in the Classroom programs.