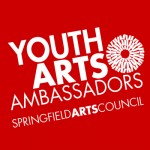 Springfield/ Clark County Middle and High School Students: 
JOIN THE YOUTH ARTS AMBASSADORS!
Youth Arts Ambassadors are the heartbeat of the next generation of arts appreciation and participation in Springfield! Teens from across Clark County participate in performing arts workshops and special events, getting hands-on experience in everything the arts offers! If you are a Springfield or Clark County middle or high school student and want to join us, come be a part of the fun! 
For more information, email YAA@springfieldartscouncil.org
or contact:
• Jordan Keating at 937-324-2712 x 24
• Krissy Hartman at 937-324-2712 x 25
Join us on Facebook at: facebook.com/YouthArtsAmbassadors
All workshops and meetings are admission-free to Youth Arts Ambassadors MEMBERS.
For current events, visit our Youth Arts Ambassadors page on Facebook!